The GALLERY LAYOUT on this page allows for an automatic slide show presentation, selection by thumbnail and/or by sliding through on a tablet. Our designs are multi-functional and allow for perfect viewing on a multitude of devices and orientations...


* Note that the photos on these sites were taken by Xclaim Agency.
We offer a one stop web development & marketing plan tailored to your specific needs.
Xclaim Agency is the company that worked with Steve Westphal – one of Tampa Bay's leading restaurateurs - to develop the gotoSTEVES corporate visual identity & brand and corporate 'Umbrella' website – gotosteves.com – that ties togther his 7 unique and very differrent restaurants and catering businesses…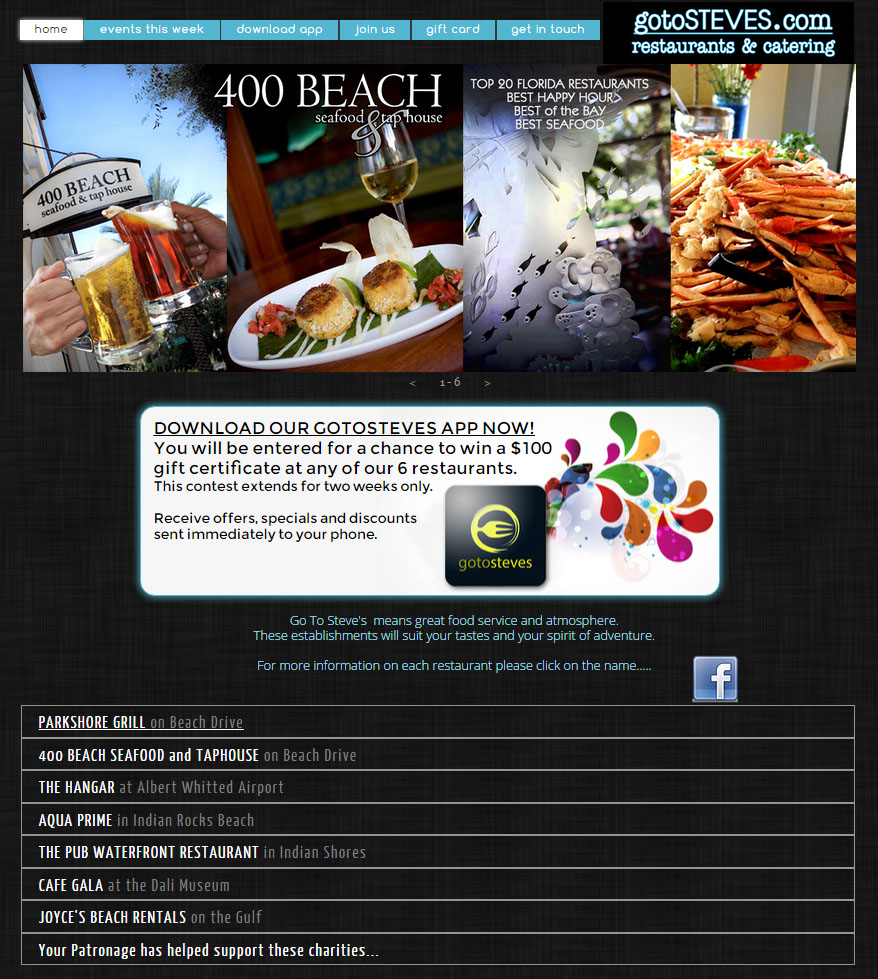 Here's what Steve Westphal has to say about working with us since 2006…
"We love your service. I think back on all the people that I know that have come to use your services and I can see how many people you have made happy. It's a pleasure to recommend you because I know they are going to thank me.
Exciting stuff, what you do, and it's exciting to see the plainly evident results that we get from harvesting the feedback we gather as a result of our social media. That equate to real dollars! "Turnaround time impeccable, rapport fantastic, service to the client unparalleled. Need we say more?"
Steve Westphal - gotoSteves.com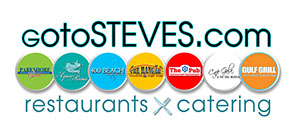 Business to Business sites have a completely different design rationale, the site visitor already has a
need for your product/service so the site must help them find the exact information they're seeking.
While appearance is and always will be an important element, the site structure and navigation are the key elements here. The website layout must be conducive to easy navigation through an intuitive interface that guides the visitor to the information they need efficiently and pleasantly.
No dead ends, no repeated information disguised under a various naming conventions and no excessive verbiage. Copy should be 'skimmable' with important points highlighted or bulleted.
The most important factor to remember when developing your Internet marketing strategy is that the site is for your customer, not for you.
There might be items you want on the site but unless they directly lead to purchasing or developing a relationship - all they do is get in the way of those objectives.
Personal stories and biographies, families and friends have no place on a B2B site. Succinct background information is acceptable but, in truth, how often have you personally read "Our Mission Statement".
Information needs to written and geared with the needs of the customer in mind...
Why Do I Need You?
How Can You Benefit me?
Can You Save Me Money?
Can You Make Me Money?
...and these can be developed into Calls to Action like... SAVE MONEY! or MAKE MONEY!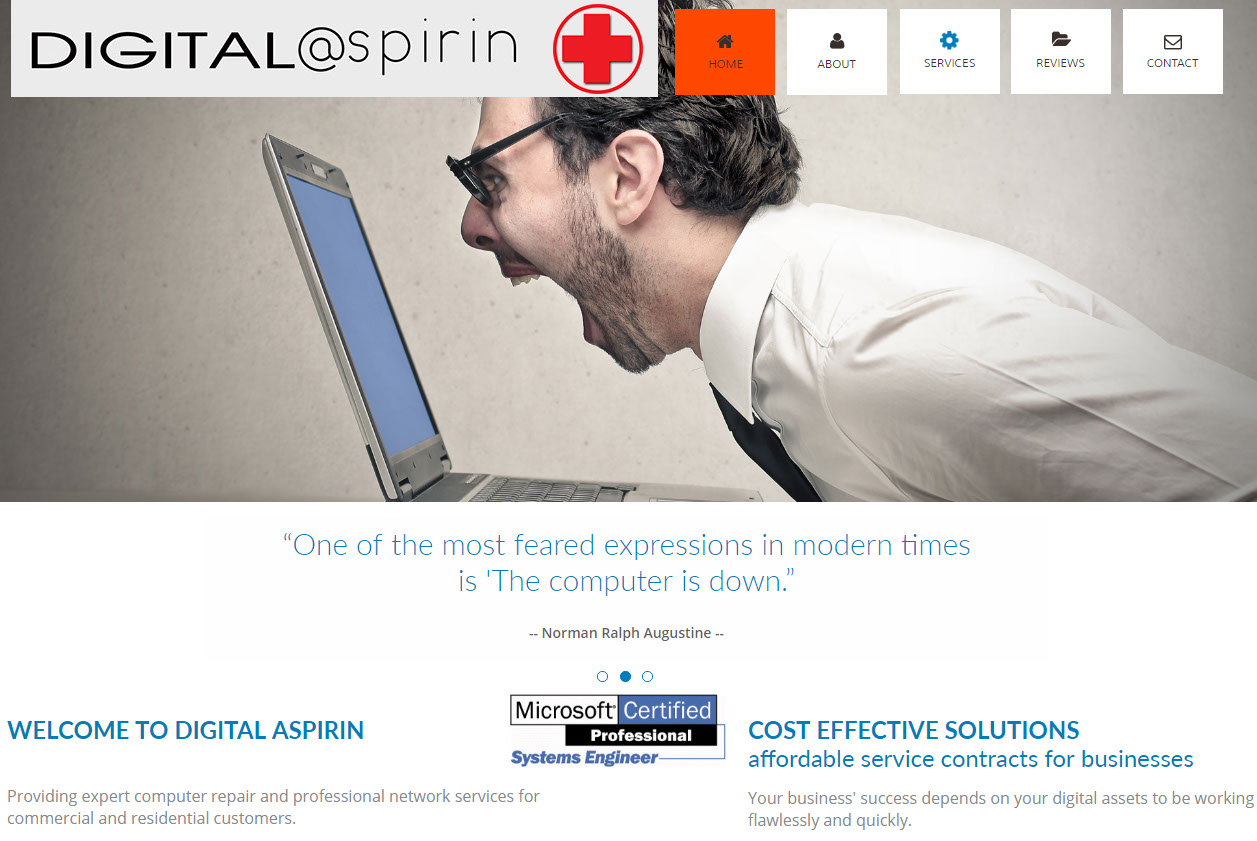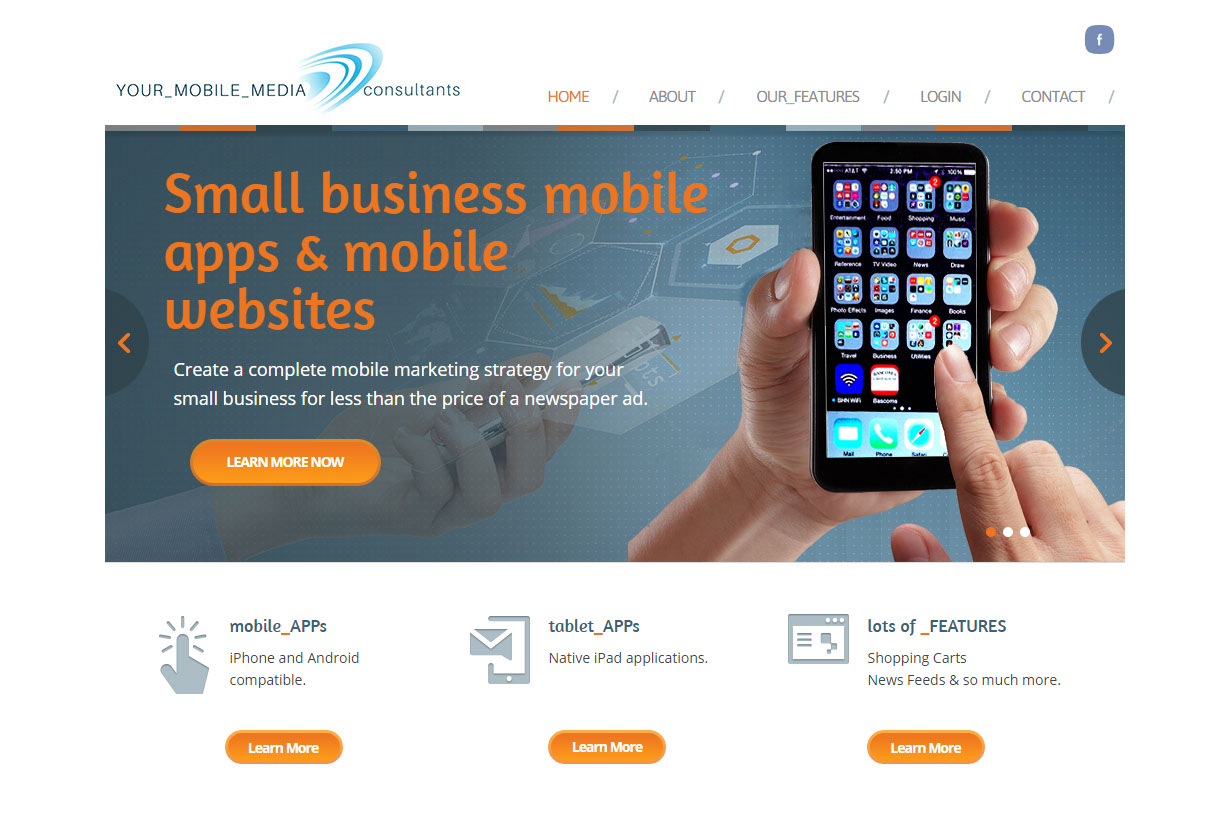 contact us for a free quote
We offer design and marketing services for a large and diverse group of businesses, offering each one a custom and unique brand and strategy for reaching their market segment. Each website has a distinctive "personality" that distinguishes it from template driven constructs.
We offer imaginative solutions to sharing information in the most engaging manner possible. Much thought goes into the design and development phase on how best to organize information, visualize concepts and deliver a pleasant and surprising experience.
The GALLERY is a simple style with the option of using the thumbnails, the counters or on a mobile device just swiping through the images.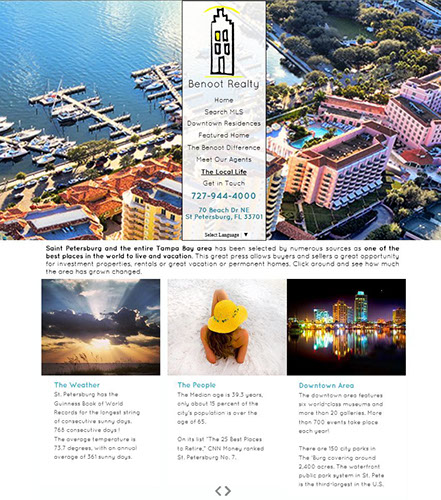 This International Real Estate Agency was told there was no way their logo could be placed on a website! It's simple when you are not using templates but creating custom websites for every client. We also created a local page full of the area's highlights. benootrealty.com
Below are four distinct dental practices that are all part of one business venture. All the websites have a completely different look and feel because each one has a different audience. They are related in terms of navigation logo design and image use. They also interlink providing a unique "mini" web experience that takes the site visitor through all the services available.
We have a lot of experience in structuring an umbrella site or a cohesive brand identity for disparate businesses that need to support one another.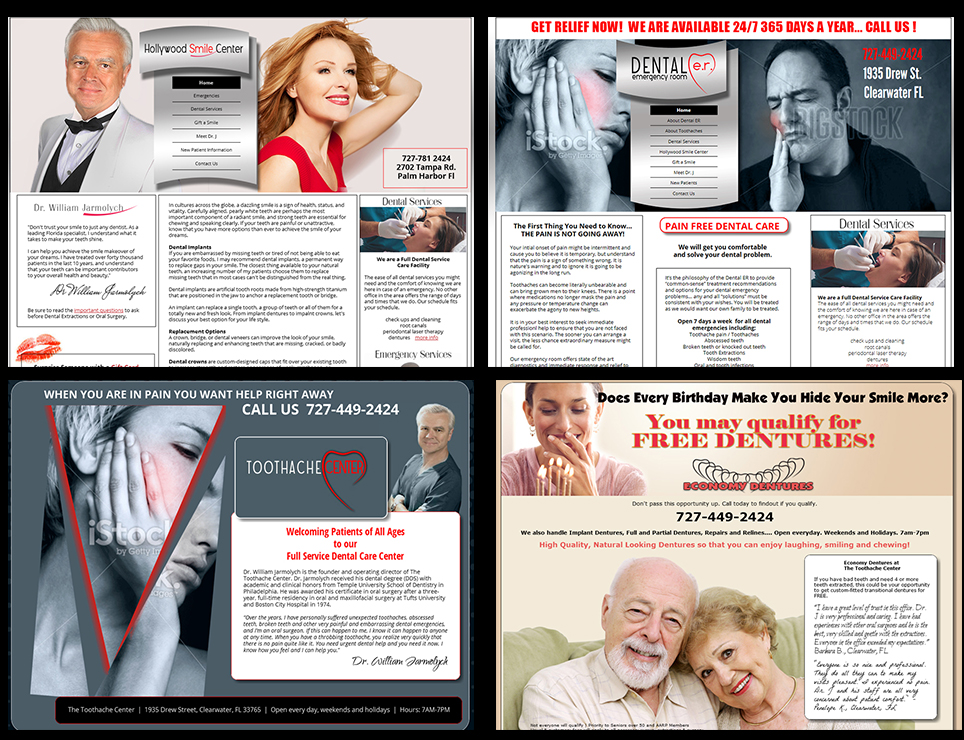 contact us for a free quote